Ryan Austin as The Jersey Devil
Ryan is an improvisor and writer in Austin, TX. He currently performs in the duo Austin/Austin with Quinn Buckner, and has traveled the world performing improvisational theatre.

Courtney Hopkin as English Ivy
Courtney has been performing scripted theatre, sketch, and improv in Austin since 2001. She is a regular teacher, performer, and director at The Hideout Theatre as well as a co-producer of Austin Sketch Fest.
Roy is one of the owners of The Hideout Theatre in downtown Austin, TX, a theater dedicated to improv and improvised plays. He himself has traveled the world teaching and performing improv with his ensembles Parallelogramophonograph and Squirrel Buddies. Roy holds a masters degree in computer science, holds his dog Tuesdsay whenever she isn't squirming, and can hold his breath for about a minute, realistically.
Aaron Saenz as The Dealer
Aaron is a classically trained improviser with minimal credentials. He once pulled an imaginary gun on a seven year old. If you see Aaron Saenz please alert the improv authorities and maintain a healthy distance.
Kareem Badr as The Frightener
Kareem is an actor, improviser, and teacher based in Austin, TX. He travels the world teaching and performing narrative improv, and is the co-owner of The Hideout Theatre.
Angelina Martin as Literacci
Angelina is an improviser and stand up comedian in Austin. She co-hosts Buzzkill at the Buzz Mill and is the creator and host of Slide in the DMs, a monthly improv show at Fallout Theater.
Jimmy Wright as Muffintopper
Jimmy is an Austin-based improviser and small business owner. He loves playing in short sketch improv and playing improv games with his two tween daughters. Nothing makes him happier than earning the eye-rolling groan of "DDDAAAAAADDDDD".
Valerie Ward as The Godsplitter
Valerie is an Austin-based improvisor and entrepreneur. As part of the award-winning improv troupe Parallelogramophonograph, she has performed and taught in over 30 cities world wide. She is also one of the founders of Sweet Ritual dairy-free ice cream parlor. She likes cats, crafts, and staying busy.
Mason Pitluk as The Whiz Kid
Mason is a San Antonio born writer and performer and the Artistic Director of Fallout Theater in downtown Austin, TX. He performs as a part of the B. Iden Payne Award winning troupe "Fuck This Week" every Monday night at Fallout.
Shannon Dale Stott as Aurora
Dave is the talent behind the Custodians of Justice theme song! He's a musician and improviser based in Austin and can be seen performing regularly at The Hideout Theatre
Cass Gutierrez & Danielle DaVerona as
Sarah Marie Curry as Pixie
Sarah Marie is an actor, singer, improviser, teacher and director in Austin, TX. Visit Sarah Marie Curry to stay up to date on her projects!
Marcone Cangussu as Dale Strongman
Kevin Miller as The Dispenser
Kevin has performed, directed and taught improv in numerous cities across the globe for over 16 years, and is the Dean of Merlin Works Institute of Improvisation at the ZACH Theatre. He is an anchor in the Austin Improv Community as well as an avid collector of all things Lego.
In addition to performing with the Austin-based improv troupe Hometown, Scott is The Inspirational Nerd and a keto health coach! He can help you lose weight and get healthy- find him at The Inspirational Nerd
Way Spurr-Chen as The Which Doctor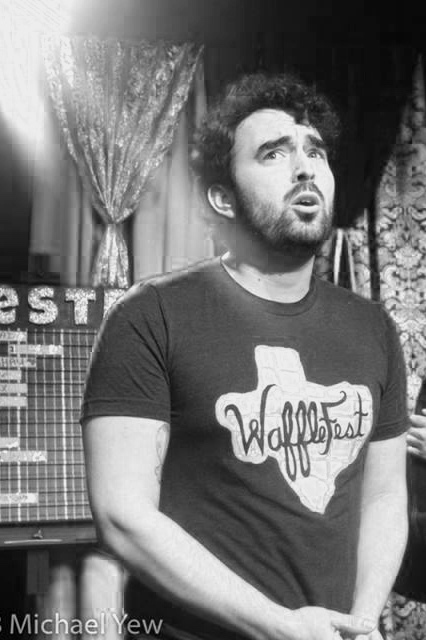 Jerod R. Espinosa-Setchko
Jerod is a writer, poet, comedian, improviser, teacher, musician, chronic podcaster, and advocate of whimsy. He is the Co-host of the Comedy Pending Podcast, Dungeon Master of Toll of the Dice: a Dungeons and Dragons live stream, and co-host of Trapped in a Cage,a youtube series by Flatfilms. Find him performing at the Hideout Theatre, the Institution Theater, Giddy-Ups, and anywhere you laugh.